I never had a special relationship to Egypt or felt particularly attracted to its ancient culture. So it became one of the wondrous gifts of life that on december 18th 2014 I started on a short trip to Luxor and returned only a few days later but with lots of energizing, inspiring and transformative experiences and definitly in love with this place!
In July a participant to the Reiki seminars with my teachers Tadao Yamaguchi and Frank Arjava Petter had first talked to me about his trip to Egypt earlier this year, and recommended me strongly to go as well. In the beginning it was just an idea, of course. But somehow it kept on working in me. E. became a friend, and in some moment I simply decided that I would do it and booked my flight and hotel for four days in Luxor to join him on his next trip. Looking back I'd say that probably through my friend I could already sense some of the energy of the place – whatever, he definitly triggered my curiosity with his enthusiasm, and provided me with Elisabeth Haich's "Initiation", a spiritual classic about ancient Egypt. Thank you!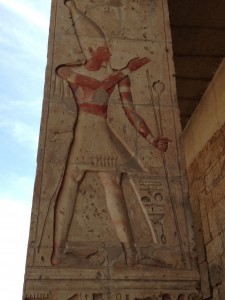 It was a great experience to go to an unknown country, even an unknown continent, without the need to prepare too much on my own. I just let go and could dive into the things that were waiting for me. Apart from the Hathor temple in Dendera that I knew I wanted to see, I followed the plans that E. had arranged with his guide. But first I had to get to Luxor …
The first hours in Egypt were quite a culture shock for me. I landed in Hurghada, next to the unbelievable turquoise colored Red sea. The countryside yellow, barren, dry. Desert with one hotel resort following the other, not an attractive place for me at first sight. The employees of my travel agency handed me down one to the other (five in total from the visa assistance till arrival in the hotel, all German speaking!) and finally with one other woman I sat in the small bus that would drive us through the desert to our destination Luxor, a four hours trip. Funny enough, the other lady came from my home town Cologne, only a few kilometers away from my mother's house, and proved to be a true carnival lover! During our stop at a service area in the middle of the desert she gave me a first lecture on bargaining. A whole bunch of Egyptian men ran towards us and wanted to sell us tea, coffee and all the touristy stuff they held in stock there. It was the first and not very comfortable experience of the lack of tourists that Egypt is suffering since "the revolution" in 2011 – there were just no other tourists around, all the attentions centered on us.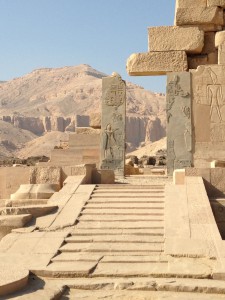 Afterwards we took a busy road through Quena, and in the late afternoon hours under the soft light of the setting sun I was astonished how poor the surroundings looked, much more than I had seen in Latin America or elsewhere, so many unfinished buildings, precarious constructions, men riding on donkeys, skinny sheep and goats in front of the houses, every once in a while control posts on the street with quite old fashioned rifles, but rifles after all.
Passing the city border of Luxor the looks changed a lot. Suddenly much more solid constructions, beautiful flowers on both sides of the road, the cruise ships on the Nile and horse carriages on the streets waiting for passengers. And the first glimpse of the illuminated ruins of Luxor temple!