I left Luxor again at the hour of sunrise. Through the window of the bus back to Hurghada I watched the sun, and knew that it would never look the same again for me after this trip.
I felt deeply grateful and filled all over with love and energy, also very happy about being able to share all this – it wouldn't have been the same without E., in fact it would never have happened for me without him. This feeling remains and I can connect to it from wherever I am. But I know I will go back just the same!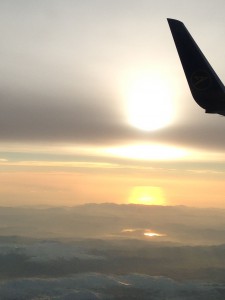 In these times of much discussion about islamic fundamentalism, it was my first journey to a muslim country. I noticed definitly that I don't know much about this culture and cannot judge anything. I felt safe in any moment, and very well accompanied by our guide and our driver. It was comfortable and easy to be in their care, but I would love to come back with some more understanding, maybe some words of Arabic too. It would be nice to decipher the current situation in Egypt a little bit more, and to find out if there are any connections between the old wisdom of the place and actuality. Or how this might be restored or supported. Travelling, food and accommodation were not expensive, and though I wish for the country that more tourists will start to come back, it was a pleasure to be so undisturbed at formerly crowded sites. A good moment to be there in peace. And of course there are many more places to be seen: Assuan, Abu Simbel, Memphis, Alexandria, and the whole Giza plateau with the pyramides. For me it will be Luxor again for sure, for winter solstice.
I drove back the same way I had come merely four days ago, yet everything appeared so different. The desert did not look all the same and dead anymore, and I could even chat friendly with the same men at the service area that had unnerved me so much on the first day. I even earned a cute little stone cat by translating some Spanish sentences for a driver who was just exploring internet dating via Facebook with a young Spanish woman … humans all over, and I was happy and thankful to feel like myself at this place now as well.